[caption id="attachment_948" align="alignright" width="300"]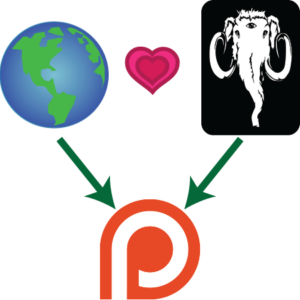 Earth and Mindful Mammoth join forces on Patreon.[/caption] Over the past three years, we've been highly successful with
kids
, parents,
players
,
schools
, fun, learning, and all the friendly sorts of good stuff that we've been working towards. We've been less successful with our business model, and so - this week - we're launching an new kind of crowdfunding campaign using
Patreon
. Patreon is essentially a subscription-based form of crowdfunding, where patrons offer support to organizations and projects by donating some number of dollars per month. We looked at a number of crowdfunding options, and Patreon seemed like the best fit to our style of work. While we aim for a big product release every year or two, most of our work is an ongoing process with a very unpredictable schedule. Some months we focus on teaching and outreach, while in other months, we focus on development. Patreon is a good fit to this style of work as it allows us to be flexible - to adapt to the needs of teachers, schools, and development timetables. Please support us on Patreon, and then share this link with your friends: 
https://www.patreon.com/mindfulmammoth
. By becoming a patron and supporting us with a monthly contribution, you can join our quest and help to create a better world through play.