Systems and Ecosystems
Through a series of hands-on model-making activities, the Systems and Ecosystems program helps students learn about interconnectedness and interdependence in ecosystems. The program begins with a storytelling exercise in which the facilitator uses a visual model to walk students through the history of wolves in Yellowstone – a classic example of a trophic cascade. Next, students create a visual model of a kelp forest ecosystem and use the model to tell the story of otters in kelp forests – another example of a trophic cascade. Lastly, to help students understand how interconnectedness and interdependence are relevant to everyday life, students create a visual model of the key relationships in their own life and reflect on the ways that their choices have direct consequences on the people and things immediately around them as well as indirect consequences on those farther away. The program addresses multiple items from both the CCSS and the NGSS.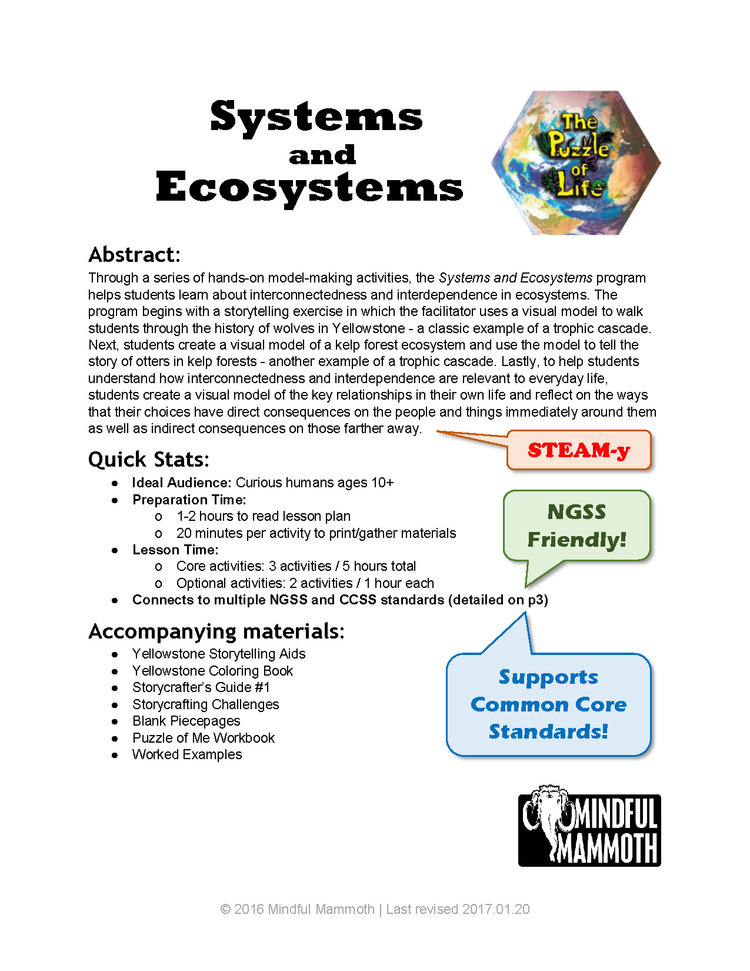 Hands-On Botany
Through a series of lectures, labs, and creative activities, Hands-On Botany introduces students to key ideas from botany and ecology while also fostering an appreciation of both nature and of learning. The central theme is the connection between form and function. The first lesson gives students an overview of the huge variety of shape and form in the plant kingdom, and points out that this huge diversity of form is what enables to live an equally huge diversity of environments. The next three lessons each focus on one particular plant part (leaves, flowers, and fruits), and the way that t he design of these parts affects their ability to function in different environments. In the final lesson, students generate a random environment (D&D style), and then use their understanding of form and function to design a plant that would thrive in that environment. In every activity, science and art go hand in hand.