It's been a busy month-or-so, and I'm just a passable blogger - hence the long break since the last post. What's been going on?
Systems and Ecosystems at The Sycamore School:
[caption id="attachment_1022" align="alignright" width="225"]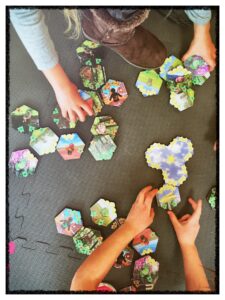 "Assembling the puzzle requires students to think about ecosystems, their inputs and outputs, and how the sun feeds a diverse population which requires balance in order to thrive. Our students were engaged and challenged as they worked to figure it all out." - The Sycamore School[/caption] We brought our sparking new 5-part Puzzle-based activity series to the first and second grade students of 
The Sycamore School
. The kids were thoroughly engaged by the activities, enjoying their time with The Puzzle of Life, the Yellowstone Story Coloringbook, and the opportunity to make a brand new Puzzle centered around their own lives. As we expected, the whole systems-thinking deal was a struggle for such young kids, but it was a fun and useful struggle. Talking with the Sycamore team in our post-activity feedback session, everyone felt that the activities had helped to stretch the minds of these students, and that by exposing them to these ideas at such an early age, we were helping to build a foundation for lifelong learning. You can find a short bit about our visit on the school's blog
here
. They also wrote a very warm testimonial, and we've put a short excerpt on our website
here
.
Systems and Ecosystems at Roosevelt Elementary:
Building on our success with the young folks at The Sycamore School, we've been working with other schools around Los Angeles to share our work with them as well. Two weeks ago, we brought a more advanced version of the Systems and Ecosystems activities to some of the 5th graders at Roosevelt Elementary. It went great, and I wish that we had some photos to share, but I don't. That's one of the tough parts of being an innovative educational startup. Putting children first means being extremely cautious about sharing information (especially photographs, and especially especially faces), which makes it hard to convey the imagination and excitement that goes on in our programs.
The Future
Next week, we'll bring that same, advanced Systems and Ecosystems program to some of the 4th graders at Roosevelt Elementary. Then, in two weeks, we'll be sharing a whole bunch of things at the annual Los Angeles Environmental Education Fair (
LAEEF
). Cool beans!
Systems and Ecosystems
at
The Sycamore School
: